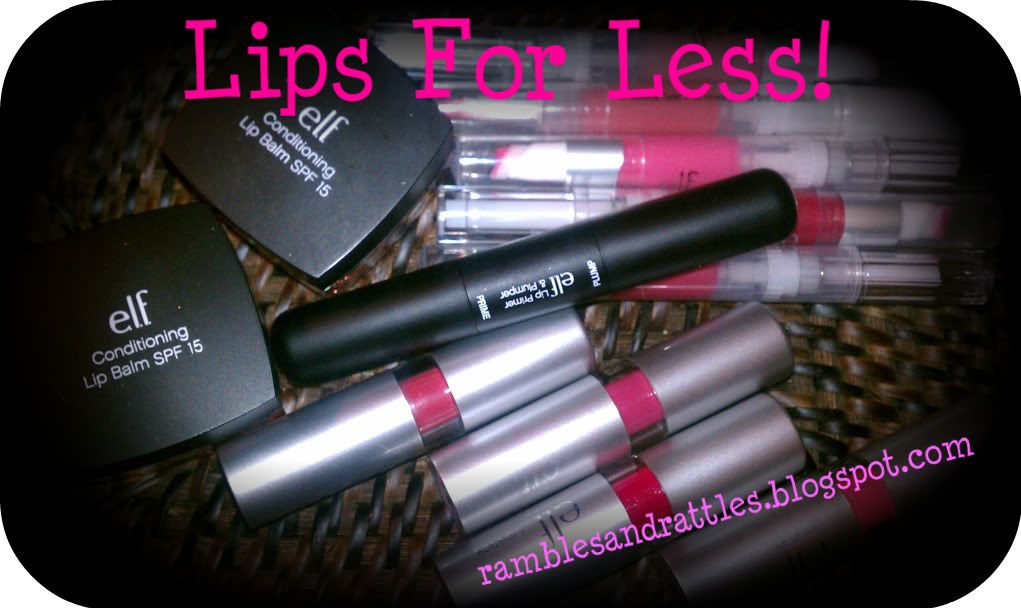 Well hey there! It has been far too long since I have updated last and I do apologize. I only have about seven more weeks left of my pregnancy so I have been a very busy woman. I have lots of new products that I have been reviewing but I really wanted to get this one out there first. I just recently started wearing color on my lips every day and I have came across some cheapies but GOODIES (lol). So lets get started...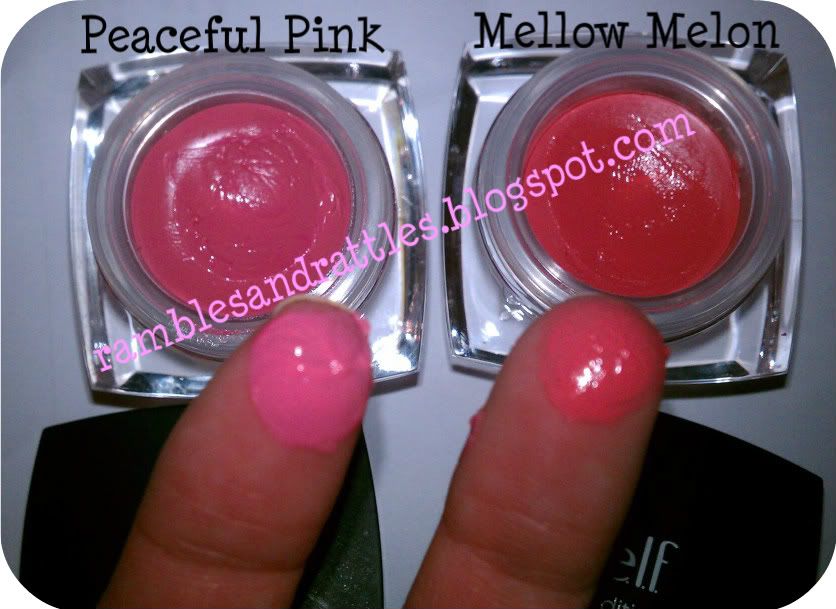 e.l.f. Studio Conditioning Lip Balm SPF 15- Peaceful Pink and Mellow Melon. Okay let me just start off by saying these are so amazing. These are very smooth and not sticky at all. I can't help but rub my lips together when these are on. They have spf 15 which is a very big bonus especially for the warmer months. These go on slightly sheer but are very buildable. The only con that I would have is these do not last very long. I think after three hours I found myself reapplying. I would recommend that at everyone give these a try and at $3.00 a piece you can try them all.
e.l.f. Essential Lipstick- Classy, Seductive, Sociable, Flirtatious. Look at how pigmented and pretty these are. Guess how much these are going to cost you? $1.00 amazing right? I started out with the color classy with one swipe it goes on very pretty and it's pretty close to a better version of my lip color. I bought this color as a dupe to MAC's angel although I don't think class is an angel dupe I still love this lipstick. These are not drying and very pigmented. They have a faint fruit smell but no horrible taste. I can't wait to try more colors.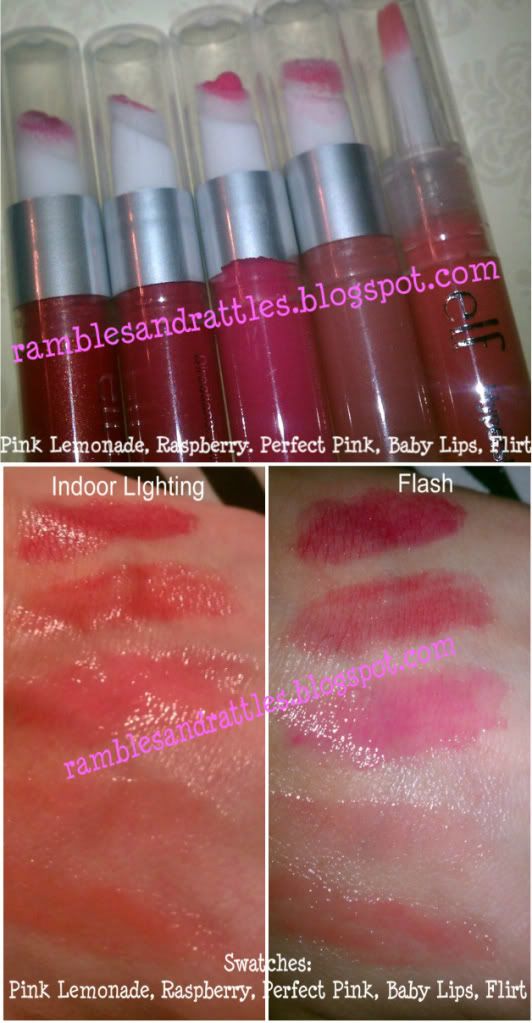 e.l.f. Essential Luscious Liquid Lipstick- Pink Lemonade, Raspberry, Perfect Pink, Baby Lips. e.l.f. Essential Hypershine Gloss - Flirt. I love using these on top of a lipstick or even by themselves they are very sheer but very nice looking. They do have a very light stick to them which is to be expected with a gloss. They are not too thick and my husband did not cringe when he kissed me with this on (he hates anything sticky). These last a very long time and found throughout a days period I only had to reapply after eating. My favorite is baby lips. I have a very pigmented natural lip color and this color really allows me to play up my own lips. These are from their dollar line as well.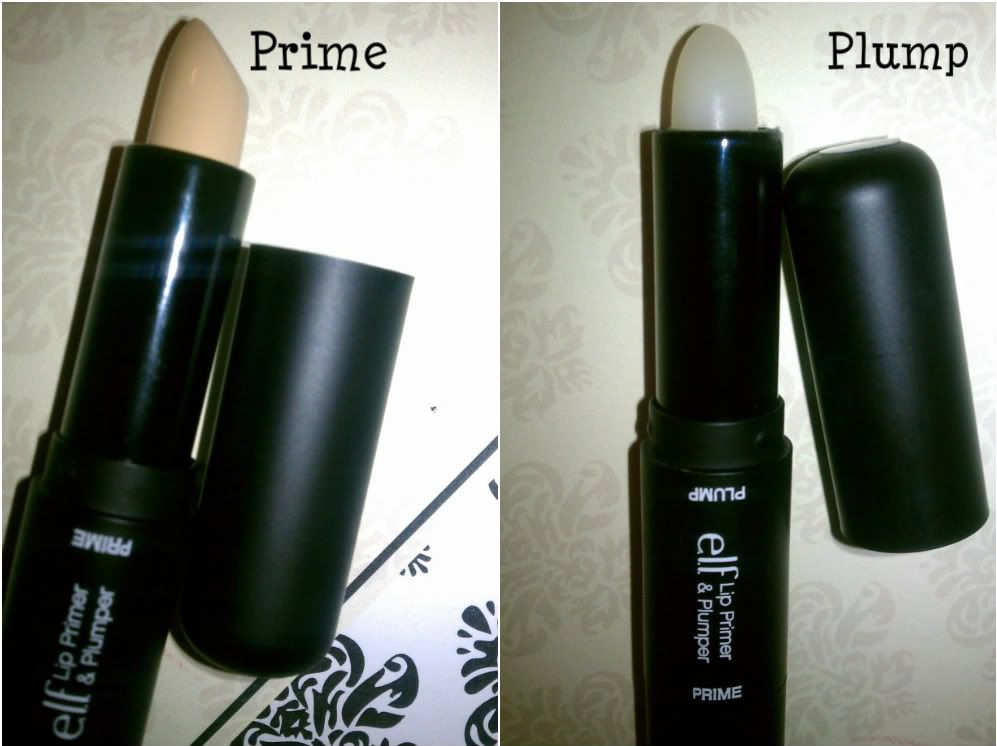 e.l.f. Studio Lip Primer & Plumper- clear/natural- This is one full stick. One side is a nude primer and the other side is a VERY cinnamon plumper. I am not really sure if I like the primer side on my lips because I usually use a lipstick as a primer but for those of you who would like to cancel out your lip color to add another on top this would be great for you. The other side is the plumper and my oh my does this stuff work. It has a very strong cinnamon smell and right after the application I feel it start to burn (not painful but a tingle). If you have used a plumper you know the feeling. About one minute later my lips are noticeably plumped. Now I usually don't want my lips plumped because I like the fullness of my lips already but when I am going for a sexy look I feel the plumped lips look great. I think if they just sold the plumper alone I would buy lots of it but the primer serves no purpose to me. This is $3.00 from elfs studio line.
Here is me wearing flirtatious as my lipstick and baby lips as my gloss. I purchased all of my e.l.f products from
www.eyeslipsface.com
you can also purchase some of the products from their essential line from target but they don't always have the best selection. If you pick any of these up let me know how you like them. I love hearing peoples opinions and well as sharing my own. I will try to update as frequent as possible as well. Take care and I hope everyone has an amazing day.
Xoxo, Catelin