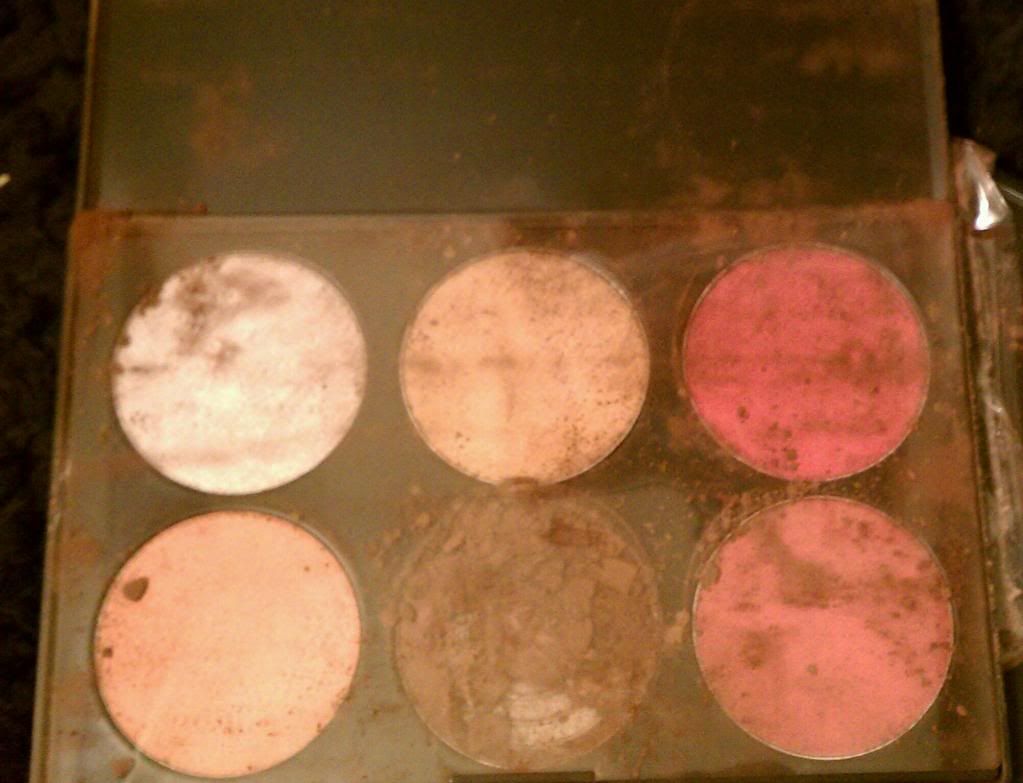 So your favorite new makeup breaks into a million pieces what do you do?? Cry? Toss it out? Of course we could all use a good cry every now and then, but now is not the time. We have some makeup repairing to do. A lot of you already know how to do this but it actually has shocked me how many friends and family members I have seen throw out perfectly good makeup because they never knew how easy and quick it was to repair it on your own.
Here is what you need:
Isopropyl alcohol - The higher percentage the quicker your makeup will dry but I just usually use 50% if you have higher or lower that is perfectly fine.
Butter knife or Popsicle stick for mixing- A table knife will work just fine.
A piece of fabric such as an old shirt, paper towel, or saran wrap any of the three will do.
Some sort of hard object that you can wrap the material around and flatten out the makeup. I used my powder makeup container.
Here is what you do:
Warning this could get a little messy so always perform this with a towel underneath ( I learned the hard way.. I will never get the brown out of my bathroom tile lol ).
Take your broken compact or eyeshadow and with your stick break the makeup into a fine powder. If you make a mess just try to push it back into the compact with a blush brush of some sort.
Depending on the size of your makeup start by adding just a small amount of your alcohol. For instance I used a full size compact so I used about one cap of alcohol. If your repairing a small eyeshadow just start by adding a few drops. With your knife or stick mix in the alcohol and make a thick paste. If it is a little runny don't worry it will evaporate.
Place saran wrap, paper towel, or old t shirt material over the compact and form the paste to the bottom of the compact. Try to flatten out any air bubbles. I laid tshirt material over my compact and flattened it out with the bottom of a powder makeup pot that was about the same size. Please note it does not have to be pretty just try to get it as flat as possible. It should start to look like it's original intended form.
Now all you have to do is clean up the edges of your compact and let it sit and dry for about 24 hours! NOTE: Do not use this product while wet. Please make sure that your makeup is completely dry so the alcohol has time to completely evaporate. If you do use this product wet it WILL dry out your skin. Once it is dry you will not need to worry about this drying out your skin because the alcohol will completely evaporate leaving little residue.
CONGRATULATIONS, your makeup is good as new and you will never have to throw out your favorite makeup ever again... unless you run out... then, well I lied lol. If you have any questions about these steps or you have any new suggestions please feel free to comment or shoot me an
email
. The palette used in the picture above is the
contour and blush palette
from
BH Cosmetics
I will soon be posting a review of what I think of this palette once it dries and I have had some time to give a good test. So stay tuned (: Xoxo, Catelin.